Monday's edition of WWE Raw averaged 1.526 million viewers with a 0.41 rating in the Adults 18-49 demographic. This was a record low audience for Monday Night Raw.
Here's the hourly viewership breakdown for Monday night, which was the final episode before Sunday's WWE TLC pay-per-view:
The first hour hour did 1.627 million viewers and a 0.44 rating (A18-49).
The second hour did 1.512 million viewers and a 0.41 rating.
The final hour of the show had just 1.441 million viewers and an abysmal 0.38 rating.
Monday Night Raw Ratings Fallout
This week's raw record low is not a statistical anomaly. WWE Raw viewership has been steadily declining all year. During the first quarter of 2020, viewership was consistently above 2 million viewers. The Covid-19 pandemic caused a negative affect to WWE programming. The lack of crowds makes for a worse atmosphere. However, ratings went off a cliff after WrestleMania.
The last time WWE Raw viewership was above 2 million was around SummerSlam in August. This chart by Brandon Thurston of Wrestlenomics paints the grim picture: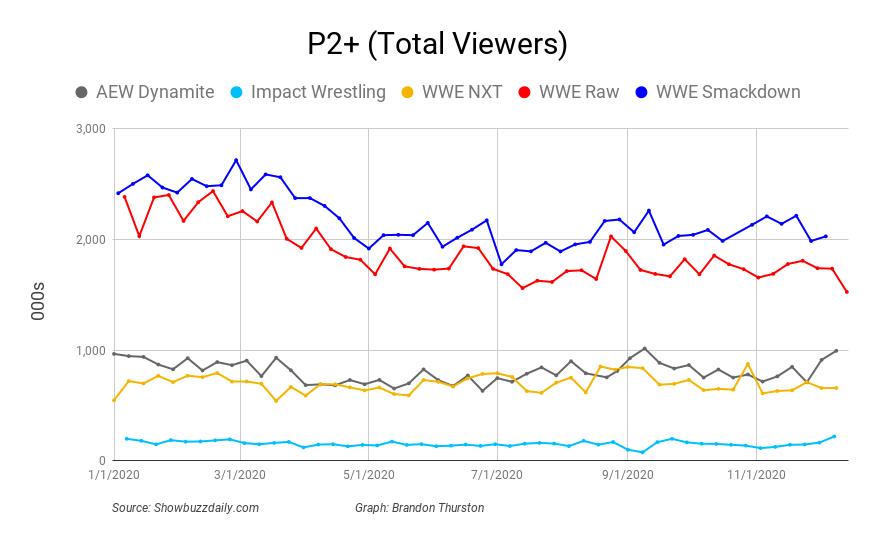 For the first time ever, AEW Dynamite defeated all three hours of WWE Raw in the Adults 18-49 demo. AEW Dynamite last week did a 0.45 rating. This was higher than all three hours of WWE Raw this week.
Last week, WWE Raw had 1.736 million viewers and a 0.52 rating in the 18-49 demo. Just one year ago, the show 2.150 million.
Raw had some tough competition this week. The NFL on ESPN game between the Cleveland Browns and Baltimore Ravens topped 12.422 million viewers. However, NFL competition is nothing new. It does not explain the overall trend.
Vince McMahon and company have tried many 'quick fixes' to turn the low ratings around. Unfortunately, it will take more than a new gimmick like Raw Underground or a wildcard rule to turn things around for WWE.
Bully Ray's Take On Raw Viewership
Former WWE Superstar Bully Ray commented on this week's Raw viewership on the Busted Open show on SiriusXM. He said the time for making excuses is over. "You can talk to me until you're blue in the face about how people watch TV differently or it's a different time, blah, blah, blah."
Bully Ray thinks that WWE needs to get back to basics. "If you build your roster and people are over, [fans are] going to tune in. I don't care what you have to do to get eyes on your product. If you have something that the people want to see? They're gonna tune in, no matter what."
Conclusion
WWE is making more money than ever thanks to lucrative television deals. If WWE does not address the foundational cracks at the root of declining viewership, the company's biggest cash cow is in jeopardy.